You may be familiar with the magic of the Vampire Facial®, a procedure that uses your body's own natural healing and growth factors to rejuvenate skin. It may interest you to know that the same basic procedure that we use to give you more youthful, smoother facial skin, can also be used to restore a youthful appearance to your breasts with the Vampire Breast Lift®!
What Is a Vampire Breast Lift®?
Like the Vampire Facial® or Vampire Facelift®, the idea behind the Vampire Breast Lift® is to restore and rejuvenate tissue using CIT, or Collagen Induction Therapy. This is a substance that we get from our own blood that has wonderful healing properties. By injecting the plasma into your breasts, with or without hyaluronic acid filler, we can help you rejuvenate the breast without the kind of fear of side effects or rejection you might have when injecting a foreign substance.
What Does a Vampire Breast Lift® Do?
If you are looking for noticeably larger breasts, a Vampire Breast Lift® is not for you. However, if you are generally happy with the size of your breasts but would like to see an improvement in shape, perkiness, skin texture, skin tone, stretch marks, decreased sensation or nipple inversion, you should strongly consider the Vampire Breast Lift®.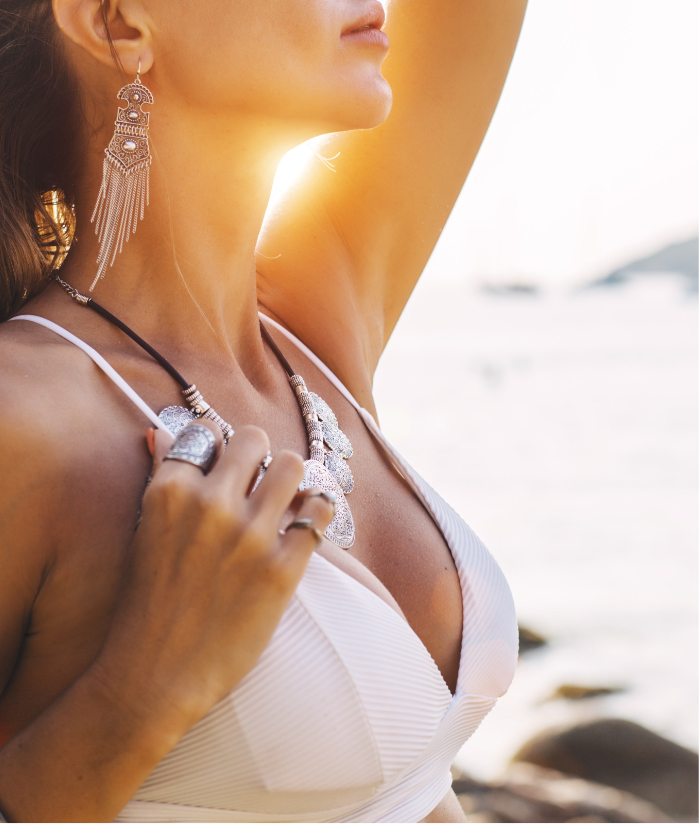 What Can I Expect During the Treatments?
We will extract a tiny amount of blood, which we will use to generate the plasma. We will then inject the plasma, with or without hyaluronic acid filler, into targeted areas of the breasts. The procedure is not particularly painful and over in minutes.
What Are the Results of the Treatment?
Shortly following the procedure, you may notice an improved shape and appearance to your breasts. They may be fuller, smoother-looking, and more youthful. Over the next couple of months, as the plasma encourages your body to grow new collagen, your results should continue to improve. These results can last for years.
Are All CIT Breast Lift Procedures Vampire Breast Lifts®?
Absolutely not. The "Vampire" brand is a very specific CIT protocol and only licensed "Vampire" members are qualified to use the FDA-approved devices and procedures involved. Alma Rose specifically uses the Vampire Breast Lift® technique and you should accept no substitutes.
How Much Does a Vampire Breast Lift® Cost?
This may vary according to your specific needs for the procedure, but you can expect one session to run between $1800 and $3000. We are happy to discuss convenient financing options.
Visit Alma Rose for Vampire Breast Lifts® in Greenville, SC
You may be only a session or two away from those beautifully shaped, great-looking breasts of your youth. To learn more about how it all works, contact us online to request an appointment below, or give us a call at 864-565-7673.