Though it's wonderful to have so many hair-removal options available today, waxing remains the go-to for many. It's quick, simple, long-lasting, safe and offers great results. At Alma Rose, we are an exclusive provider of Berodin Wax, the latest and greatest technology in polymer formulation. Known as the best wax in the industry, Berodin is gentle on the skin yet works extremely well for unwanted hair removal. It can be applied at low heat virtually anywhere, while staying flexible without being sticky like traditional hard waxes.
What Is Berodin Waxing?
No matter your gender, skin or hair type, Berodin has the most advanced technology in polymer formulation, making it the best wax in the industry. It is gentle on the skin, but strong for hair removal. We use signature products to treat the skin before and after treatment to give our clients superior results. We streamline our waxing at Alma Rose with only two waxes: a hard wax and a soft one to handle any skin or hair type. 
Hard Wax 
Our signature hard wax provides quick, efficient results and a less painful waxing experience. Formulated with revolutionary flexible polymers, this stripless wax can be applied in multiple sections without breaking or becoming rigid. Heated at low temperatures to minimize irritation, Berodin adheres only to the hair and not the skin itself. Safely removing both fine and coarse hair, it creates a smooth finish with minimum skin reactions.
What it does:
Flexible formula doesn't require strips
Adheres firmly to fine and coarse hair without sticking to skin
Low melting point to minimize irritation
Soft Wax
Our hypoallergenic, fragrance-free soft wax is safe for all skin types including sensitive skin. Gentler than other clear waxes, this microcrystalline formula was designed with speed waxing in mind. After being heated at a low temperature, it's applied in a very thin layer, allowing us to cover large areas in less time. A single application removes fine and short hairs without leaving behind any residue.
What it does:
Hypoallergenic wax free of fragrance and beeswax
Doesn't dry out or become brittle
Can be applied and removed quickly without irritation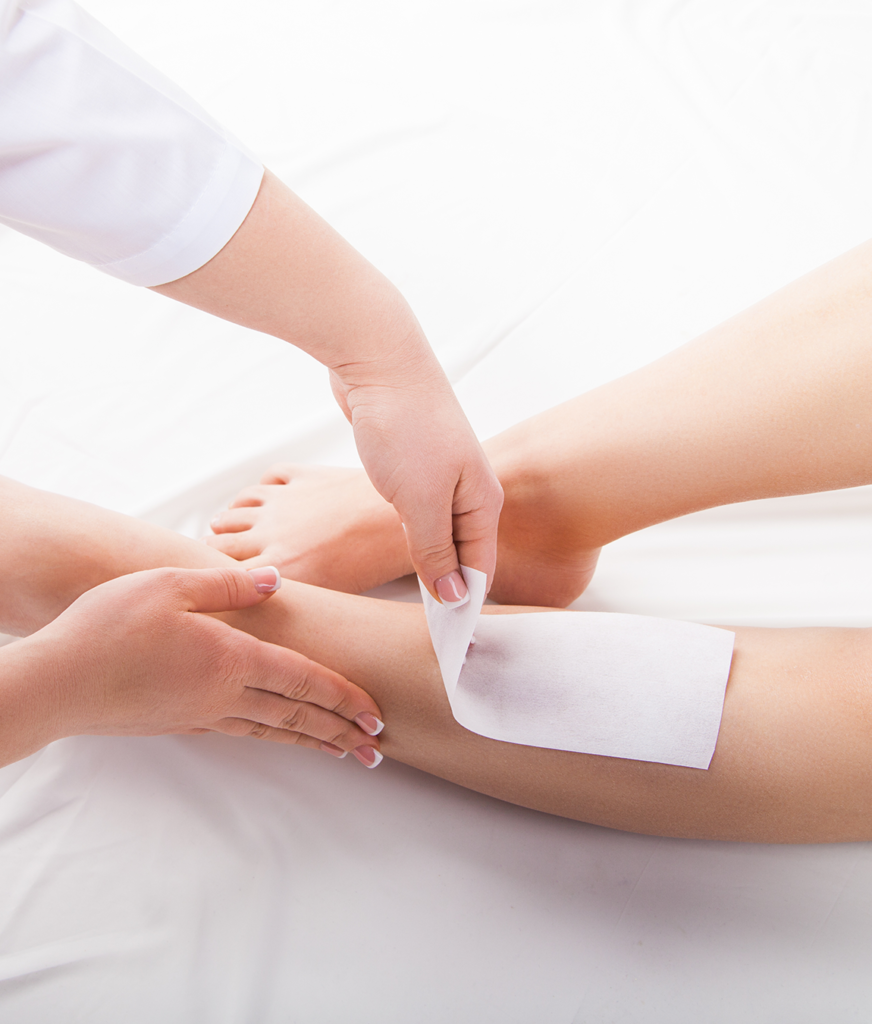 What Areas May Be Waxed?
We can wax hair on virtually any area, with the exception of male private areas.
Areas for waxing include:
Brows
Lips 
Chin
Full Face
Neck
Underarms
Forearms
Back
Shoulders
Chest
Bikini
Brazilian
Navel
Full Body
Legs
What Can I Expect? 
When you're in our treatment room for your wax, we'll consult with you first before removing any hair. We'll examine your hair length to make sure it's long enough (at least 1/4 inch) and confirm the end-result you desire. 
Caring for the skin is key to a successful wax service; therefore, prior to waxing, we cleanse and prepare the skin to ensure the wax adheres to the hair only, leaving the skin untouched. After your treatment, we make sure to calm and soothe normal skin reactions from waxing. 
If you feel nervous about the wax, please let us know; this will give us the opportunity to guide you through the process, making it as gentle and quick as possible.
What Kind of Results Might I See From Waxing?
Waxing removes hair from the root and can last up to six weeks. However, your skin may not be hair-free for a full six weeks, as most people see regrowth sooner. How quickly hair regrows depends on your hair growth cycle, breakage, and how frequently you wax. 
Visit Alma Rose for Waxing in Greenville, SC
At Alma Rose, our personnel are highly experienced and trained in the use of the best hair removal wax on the market, Berodin. This gentle, efficacious and safe wax is ideal for any skin or hair type. To set up a waxing appointment to remove unwanted hair, call us at 864-565-7673 or fill out the contact form below.