Anyone can develop stretch marks, although they tend to be more common in women than men. Also known as striae, these marks are long, narrow streaks, stripes, or lines that occur when the skin is suddenly stretched. Essentially scars, this skin concern can occur on a range of body parts, including the stomach, thighs, hips, breasts, upper arms, and lower back.
What Are Stretch Marks?
Stretch marks are unsightly areas of scarring and discoloration that run along certain areas of the body. These streaky lines are common among pregnant women, but can also show up during adolescent growth spurts and after speedy weight loss or gain. Traditional treatments for reducing stretch marks include using oil and frankincense, however these options haven't proved very promising. To get rid of these streaky lines for good, opting for a professional aesthetic treatment might be your best choice. At Alma Rose, our highly trained staff, which includes a premier aesthetician and a medical doctor, can help you regain your beautiful skin.
What Causes Striae?
Striae happen when our bodies produce excess amounts of cortisone. When levels of this hormone elevate, they reduce skin pliability and in turn lead to stretching. Cortisone prevents fibroblasts from forming collagen and elastin fibers, leading to the ridges in skin usually associated with striae. Unfortunately, once these marks appear on our skin, they typically result in scars that don't go away without professional treatment.
How Can Alma Rose Help?
At our Greenville center in South Carolina, we address stretch marks using a few different methodologies. Our Eclipse MicroPen EVO, known as the "Evo Pen," is one such way we treat stretch marks. This advanced, medical-grade automated micro-needling device works to improve the skin's texture, tone, and color, being very efficacious for stretch marks. Most microneedling sessions such as this take only 15 to 30 minutes; any discomfort is temporary and is felt only during the procedure itself. The skin's repair process after the microneedling results in improvement in the appearance of stretch marks, and patients receive the benefit of a more youthful appearance of the treated area as well. To find out if the Evo Pen is right for you, come see us at Alma Rose for your comprehensive consultation and skin analysis.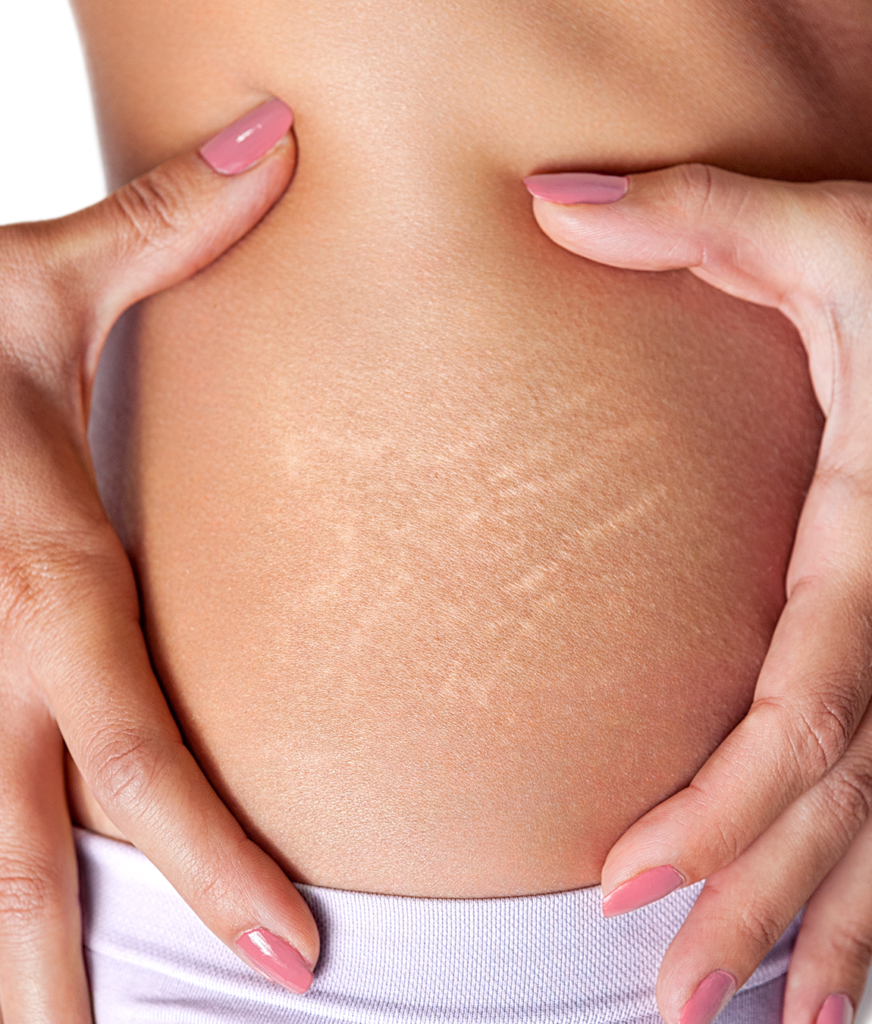 Visit Alma Rose for Stretch Mark Treatment in Greenville, SC
If you have stretch marks or skin making you look older than you are, we are happy to help. Our experienced practitioners take a caring, thoughtful approach to your treatment. You'll always know exactly what to expect from the procedures we perform. To get in touch, call 864-565-7673 or submit our form below to request an appointment.